SEO
Top AI-Driven SEO Tools: Improve Your Website Faster and Smarter
The future of SEO is dynamic and powered by AI. Learn more about how to equip yourself and your team with the best AI SEO Tools, ensuring you remain at the forefront of this digital race. Optimise your website faster and smarter with AI.
Once upon a time, Artificial Intelligence (AI) was a concept we only encountered in sci-fi movies. Today, it's more than just a futuristic idea; it's the magic wand in our digital marketing toolkit!
The SEO world is all abuzz with AI-driven tools, and for a good reason. They're like having an SEO superhero on your team, working round the clock, fine-tuning tasks, and giving your website that extra shine it needs to stand out in the crowded digital landscape.
What are AI SEO Tools?
AI SEO tools are software applications that use artificial intelligence and machine learning to help businesses improve their website's search engine optimisation (SEO).
Imagine having a virtual assistant that's been trained to understand the vast world of search engine optimisation. This assistant, powered by artificial intelligence, can quickly dig into keyword trends, fine-tune your content, and even keep an eye on what your competitors are up to.
These tools can automate a variety of tasks, including keyword research, content optimisation, and competitor analysis. They can also provide actionable insights and recommendations based on real-time data, allowing businesses to make more informed decisions about their online strategies.
Do You Need AI Tools in SEO?
Search engines, like Google, are always changing the game. Just when you think you've got a handle on SEO, the rules change. Now, instead of playing catch-up, imagine having a smart tool by your side that not only keeps up with the times but also gives you a sneak peek into the future.
AI-powered SEO tools can help you streamline your efforts, decode the secrets of your website's performance, and offer golden advices, ensuring your site shines brighter than others on the web.
Here's our curated list of the top 10 AI SEO tools to elevate your website game. Whether you're a newbie or a seasoned expert, there's something here for everyone.
10 Best AI Tools for SEO in 2023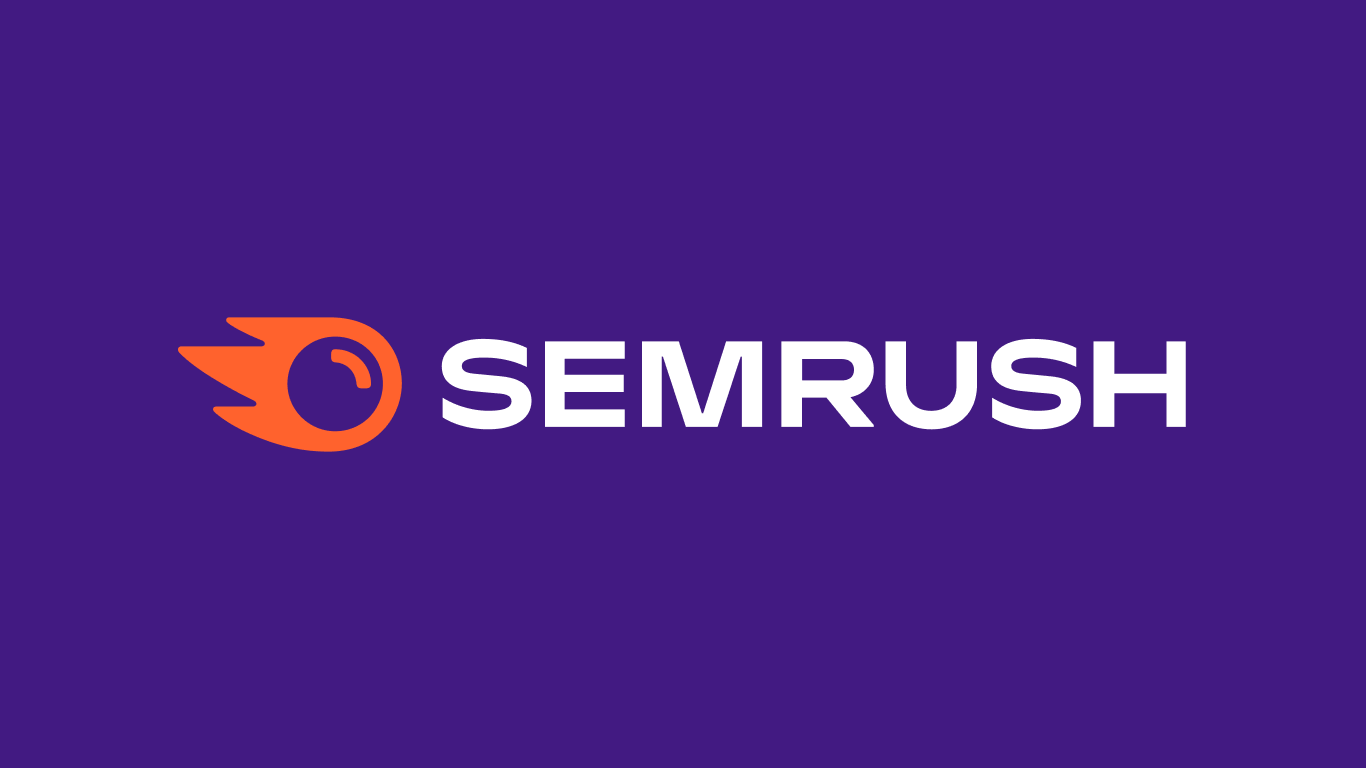 1. SemRush
A comprehensive AI-driven SEO tool suite, SemRush covers everything from keyword research and content marketing to competitor analysis and PPC. It is widely used by both small and large businesses, and it has become the most popular AI SEO tool.
Key Features:
Keyword Magic Tool: Advanced keyword research tool with a database of over 24.6 billion keywords.

AI-driven Site Audit: Scans your website, highlighting areas of improvement and offering solutions, ensuring your site is in top-notch shape.

Content Marketing Platform: Guides you in crafting compelling SEO optimised content.
Best used for: Those looking for an all-in-one SEO suite. (PR Specialists, Content Marketers, and Social Media Marketers - SMM).
Pricing: 7-day free trial | Starting at $129.95/month.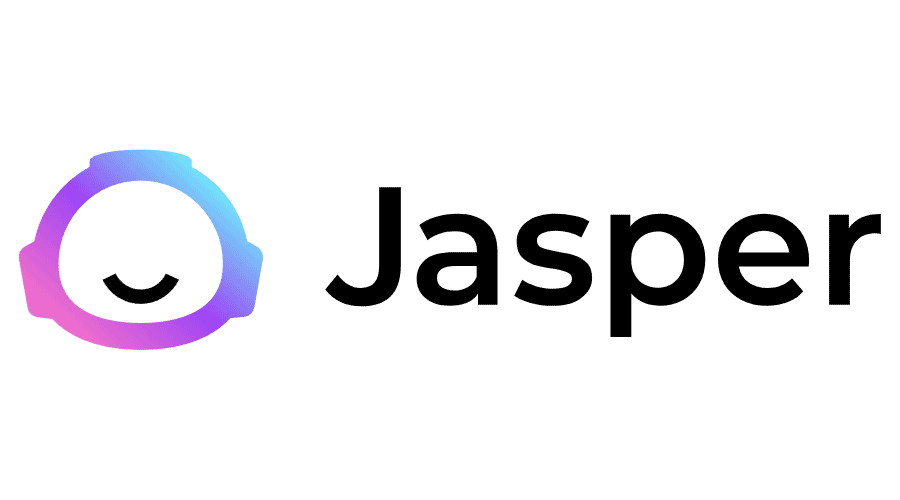 2. Jasper AI
Jasper AI is versatile, capable of producing text, facilitating language translations, crafting diverse creative content, and delivering insightful responses to inquiries. Its applications range from customer service and email marketing to copywriting and content generation. Jasper processes the data to formulate sentences, sections, or complete articles with more than 50 different templates.
Key Features:
Jasper Brand Voice: Infuses unique brand identity, tone, and style into AI-generated content.

Product Description: Crafts concise product descriptions, highlighting key features, ideal for eCommerce and affiliate marketers.

Jasper Chat: Chatbot offering intuitive conversations integrated with its content platform, allowing user-driven dialogues and seamless content creation (advanced AI alternative to ChatGPT).
Best used for: Those looking for high-quality AI writing tool.
Pricing: 7-day free trial | Starting 49 $/month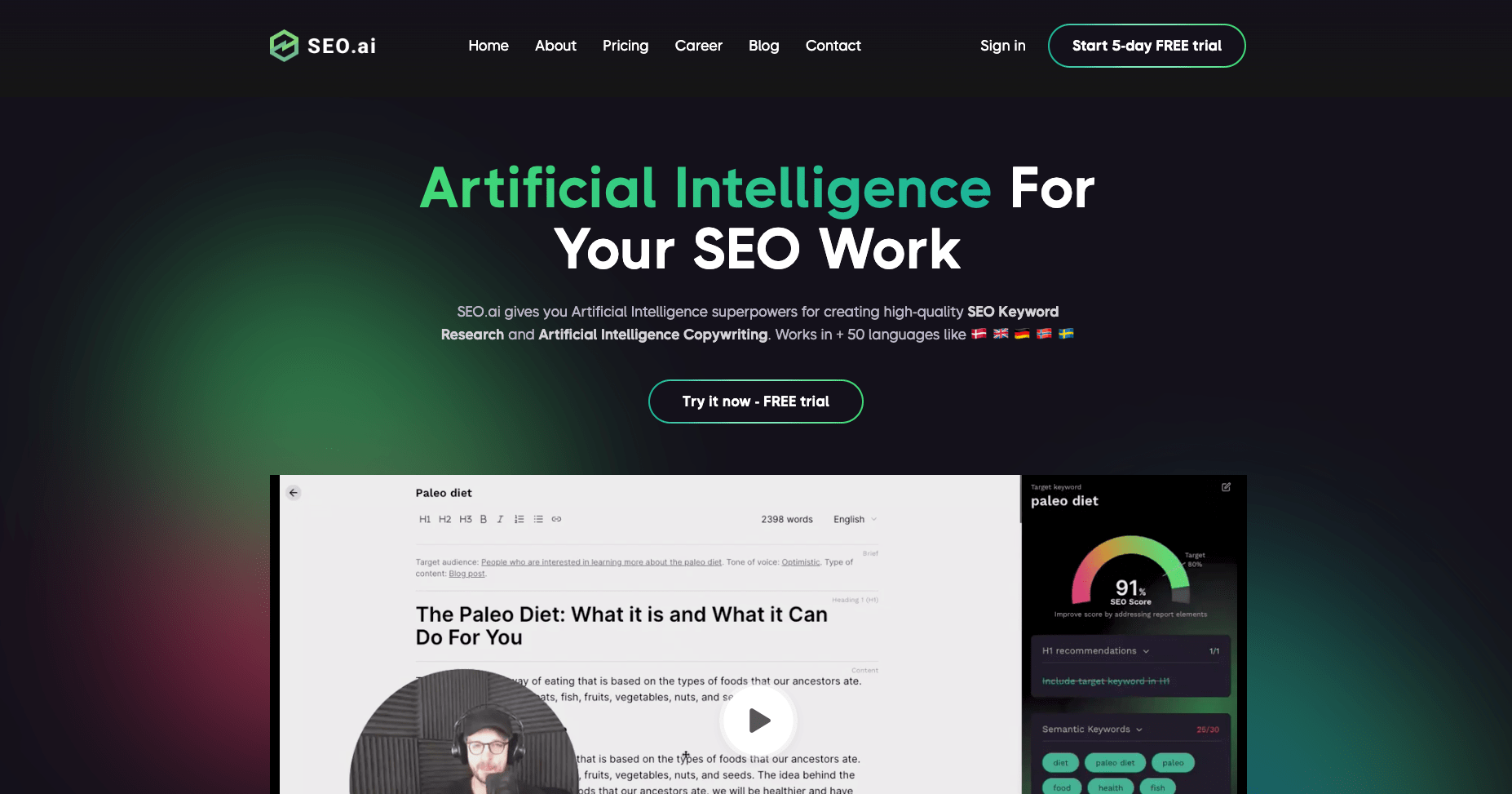 3. SEO.ai
Using advanced algorithms combined with a thorough analysis of Google SERPs, SEO.ai identifies valuable keywords and produces optimised content. Works in over 50 languages. Its design prioritizes efficiency, requiring less human input while aiming to significantly increase organic traffic. You can use it's Google algorithm real-time SERP analysis and generate content with it's advanced AI-writing assistant.
Key Features:
Competitor analysis: Provides data-backed insights from competitor evaluations.

Keyword Research: Offers comprehensive keyword research with advanced AI insights and options.

Customised content: Generates long SEO optimised blog posts, headlines and titles based on tone of voice and target audience.
Best used for: Those looking for generating organic traffic.
Pricing: 7-day free trial | Starting 49 $/month.

4. Surfer SEO
Popular among SEO professionals, Surfer SEO increases organic traffic and enhances rankings through its AI-driven tools. SurferSEO is a cutting-edge, cloud-based tool designed to bolster on-page SEO by analysing top-ranking web pages in relation to specific keywords. By comparing user content with those dominating the Search Engine Results Pages (SERPs), it provides a tangible perspective on the dynamics of current SEO standards.
Key Features:
On-Page Optimisation: Provides actionable insights to refine and improve the on-page elements of your website for optimal ranking.

Backlinks Strategy: Guides on potential opportunities to bolster and refine your website's backlink strategy for better authority and relevance.

Content creation: Helps create SEO-tailored content through keyword density and related term analysis.
Best used for: Those looking for On-Page SEO optimisation tool.
Pricing: Starting 69 $/month.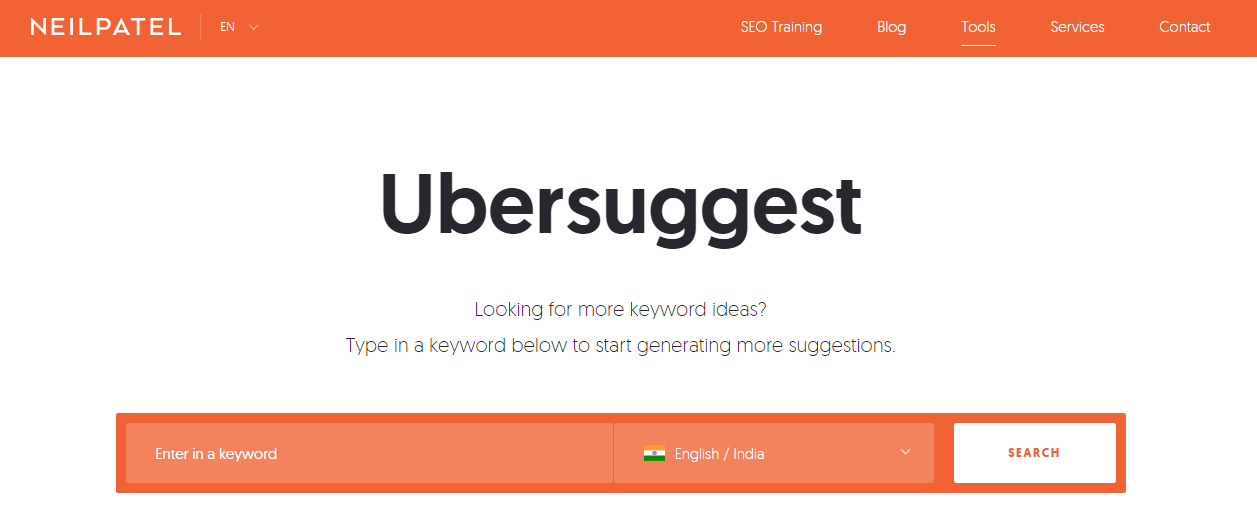 5. UberSuggest
Ubersuggest, developed by digital marketing expert Neil Patel, is a comprehensive SEO tool designed to enhance website optimisation, content creation, and keyword research. Since Ubersuggest is primarily an SEO tool, undoubtedly assists in enhancing your SEO through optimised meta descriptions, titles for your posts, and content.
Key Features:
AI Writer: This feature, newly introduced to Ubersuggest, accelerates the content creation process by generating SEO-friendly texts, meta titles, and descriptions on various subjects.

Keyword Research Tool: Ubersuggest provides an in-depth analysis of keywords, giving insights into their performance and potential opportunities for ranking.

Website Audit: With this feature, users can gauge their website's overall health, identify pressing SEO issues, and receive straightforward instructions for resolution.
Best used for: Marketing professionals looking to enhance SEO and streamline content with AI.
Pricing: Free | Advanced features starting 29 $/month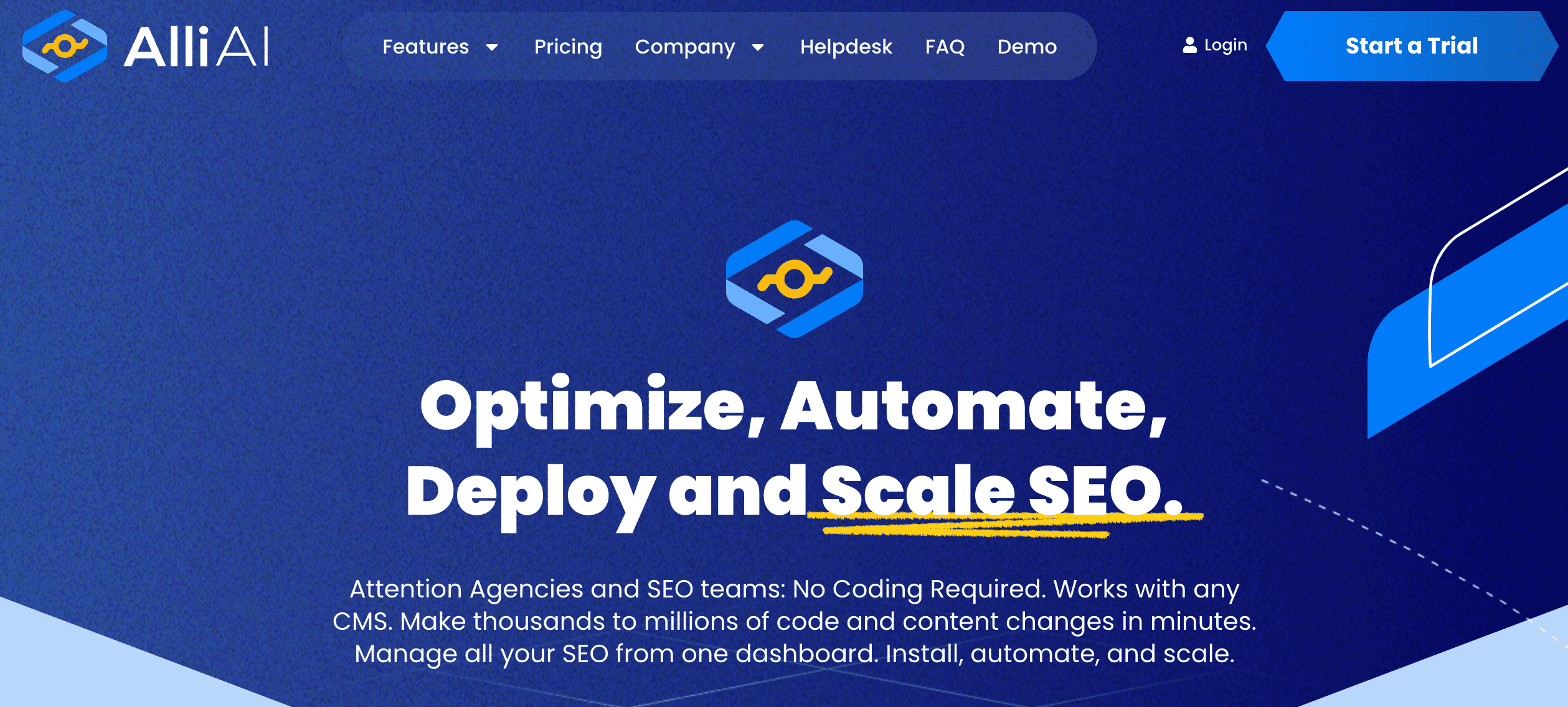 6. Alli AI
Alli AI is an AI-driven SEO platform designed to enhance website visibility on search engines by analysing keywords, content strategies, and competitive insights. It empowers businesses to streamline their digital presence, ensure relevancy in search results, and tap into the intelligence of AI to stay ahead of SEO trends. The platform's intuitive interface coupled with its data-driven insights ensures that even the most complex SEO tasks are simplified for businesses of all sizes.
Key features:
Live Editing Capability: Alli AI comes equipped with a real-time editor that allows users to modify text, content, and code directly on their pages.

Bulk Onpage Optimisation: This unique feature establishes on-site optimisation guidelines and effectively implements code modifications across individual web pages.

Self-Optimiser for Traffic ROI: This function autonomously crafts site-wide page titles and conducts real-time keyword A/B tests to maximise organic traffic.
Best used for: Those looking for advanced SEO optimisation tool.
Pricing: 10 days free trial | Starting 249 $/month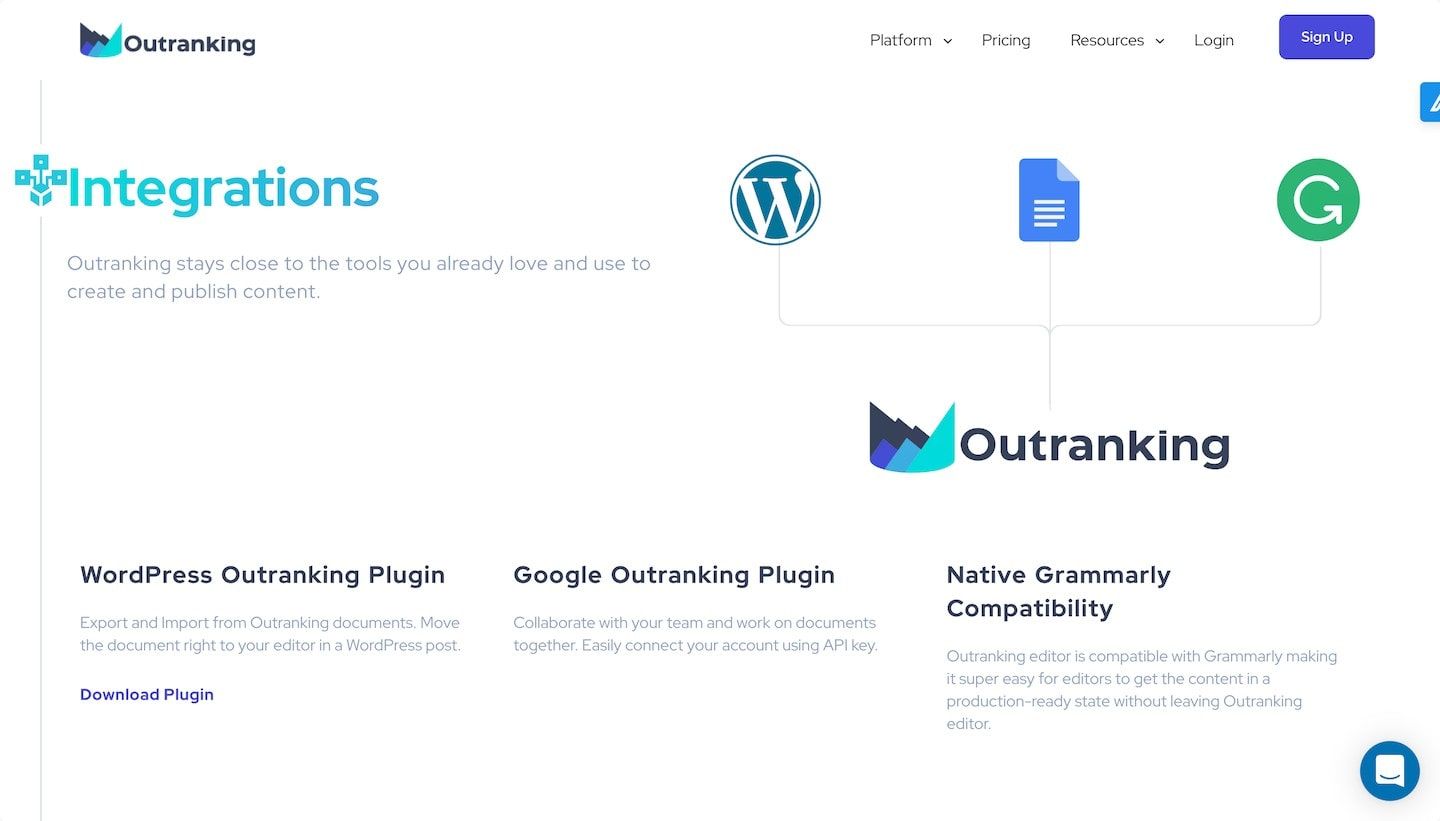 7. Outranking
Outranking stands out as a sophisticated AI-driven SEO tool designed to empower businesses to surpass their competitors in search engine standings. By leveraging advanced algorithms and comprehensive data analysis, it offers strategic recommendations to enhance website efficiency, drawing in more organic traffic. It can be used for crafting content strategies, optimising PPC campaigns, and benchmarking against competitors.
Key Features:
Harmful Link Detection: Outranking identifies and helps eliminate links that may harm your site's SEO credibility.

Customizable SEO Dashboards: It provides user-friendly dashboards that vividly illustrate pivotal SEO metrics.

Consistent Website Rank Monitoring: The tool ensures continuous tracking of your website's rankings to gauge performance and make necessary adjustments.
Best used for: Those looking for the ultimate competitor analysis AI tool.
Pricing: Starting 59 $/month

8. Pro Rank Tracker
Pro Rank Tracker is a web-based SEO tool primarily designed for rank tracking and reporting. Boasting a state-of-the-art algorithm, this cloud service offers unparalleled accuracy in tracking SERP rankings, accommodating both SEO professionals and website owners globally. Catering to a multilingual audience, the platform emphasizes trustable data, making SEO analysis and decisions seamless and reliable.
Key Features:
Highly Accurate Rank Tracking: Advanced algorithm generates the most precise, up-to-date ranking results up to the top 100 results.

Comprehensive Reporting Centre: Provides multiple schedulable reports and charts tailored to various SEO analysis needs, including a unique Rankings Discovery Tool to uncover unknown ranked terms.

Mobile Application Suite: Offers two innovative mobile apps; the PRT Mobile App for on-the-go rank checks and reports, and the customisable MyRanks App.
Best used for: SEO professionals and website owners looking for accurate rank tracking, detailed reporting and versatile mobile solutions.
Pricing: 30 days free trial | Starting 13.5 $/month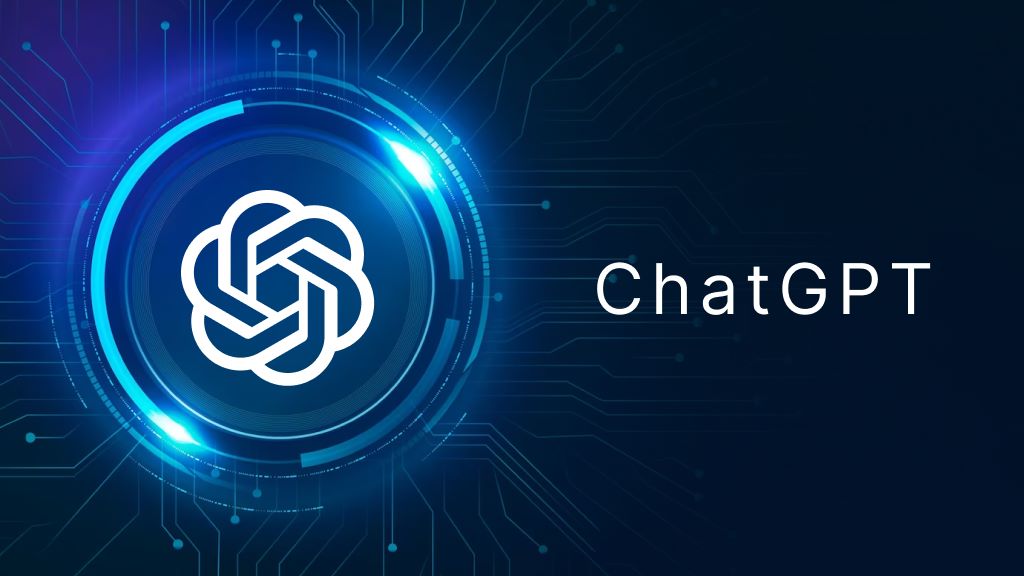 9. Chat GPT
Chat GPT, developed by OpenAI, is a AI language model adept at generating and understanding text. It's a powerful tool for marketers, bridging the gap between automated solutions and quality content, enabling brands to communicate effectively and generate fresh content ideas.
Key Features:
Versatile Content Creation: Chat GPT helps with formulating diverse content, from short social media posts to detailed articles, titles, and headlines.

Idea Generation: When you're out of ideas, Chat GPT can be your brainstorming partner, suggesting structures, themes, or concepts for your next campaign.

Customer Engagement: Through chatbot integrations, it facilitates real-time conversations, delivering immediate, relevant responses to customer queries.
Best Used For: Generating creative marketing content, from short social media posts to in-depth article ideas.
At the moment Chat GPT offers GPT-3.5 model, which is the fastest model perfect for everyday task and available for free, and more advanced GPT-4 model, great for more creative and complex tasks, available for Plus users only.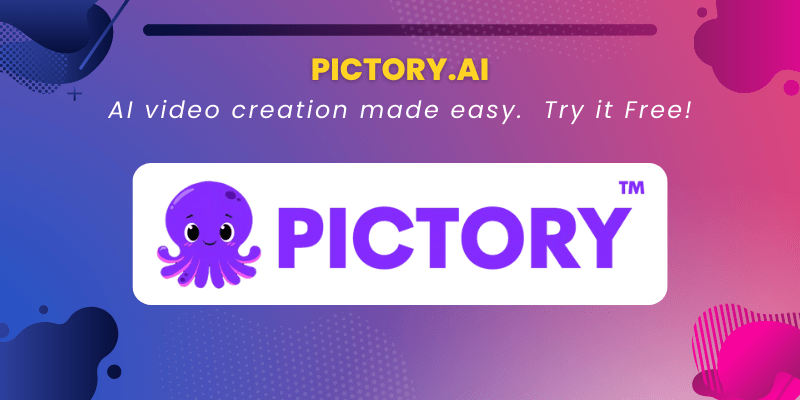 10. Pictory
Pictory is an advanced AI-powered video generator tailored for marketing needs. It transforms text-based content into captivating videos, optimises webinar recordings, and revitalizes blogs with engaging video formats. By simplifying the video creation process, Pictory empowers marketers to expand their content arsenal and enhance their digital presence effortlessly.
Key Features:
Content Optimisation: Pictory intelligently extracts valuable segments from webinars, Zoom, and Teams recordings, creating golden snippets ideal for social media sharing.

Automatic Video Creation: Input a script, and Pictory crafts high-conversion Video Sales Letters, complemented by stock footage, music, and voiceovers within minutes.

Efficient Captioning: With 85% of social videos watched mute, Pictory's automated captioning ensures broader reach and engagement, eliminating the need for tedious manual captioning or outsourcing.
Best used for: Transforming written content and long recordings into engaging, share-ready video snippets for digital marketing campaigns.
Pricing: First 3 video projects for free | Starting 19 $/month
AI-driven SEO tools are not just the future; they are the present. They transform the way we approach SEO, making it more efficient, more targeted, and far more scalable. Remember, AI is here to help, not replace. Use it to amplify your skills and knowledge, ensuring your brand shines the brightest in the vast digital universe.
Let Cogify Elevate Your SEO Game
Navigating the digital landscape can be daunting, but you don't have to do it alone. Let us handle the complexities for you at Cogify. Dive into our premium SEO services and let our expertise drive your website to new heights. Reach out today!